The COVID-19 pandemic has completely disrupted the food supply chain, resulting in a surge of on-farm food loss, food business closures, and a growing number of food insecure individuals. In response to these challenges, we have launched the ReFED COVID-19 Food Waste Solutions Fund to quickly deliver vital funding to organizations that can rapidly scale food waste reduction and hunger relief efforts.
---
The Fund is distributing its first $1 million of grants to organizations that will - in the next 90 days - drive impact of more than a total of 10 million pounds of food waste prevented or 8.3 million meals rescued. We will continue to raise funds beyond this initial goal of $1 million, as well as showcase the work of the organizations receiving grants to help them attract additional funding and partnerships to fully scale their work.
---
The ReFED COVID-19 Food Waste Solutions Fund is a streamlined, one-stop, rapid response vehicle delivering critical support to this important group of high-impact food waste organizations. 100 percent of what is donated will go directly to well-vetted food waste solution providers on the front lines of the COVID-19 crisis. Although the first round of applications and grant awards is now closed, we continue to welcome additional submissions to be considered for future funding rounds and will review them on a rolling basis.
How it works
The ReFED COVID-19 Food Waste Solutions Fund distributes capital to both nonprofit and for-profit organizations with scalable solutions ready to make an immediate impact across the U.S. food system over the next 90 days.
Funding to Scale up
$50,000 on average in non-recoverable grants provided to each awardee.
Application Process
One simple, straightforward application with submissions evaluated on a rolling basis using a robust set of eligibility and evaluation criteria.
Awardee Selection
Grants have been awarded to a portfolio of high-impact organizations selected from a national open call for COVID-19 food waste solutions.
Donate to the fund
We are very appreciative of the many donors who have already contributed just-in-time capital needed during this extraordinary time. Through a generous gift from Betsy & Jesse Fink that covers the Fund's administration costs, 100 percent of each donation goes where it's needed most.
If you have questions about donating or want to discuss a major gift, please email Alexandria Coari at alexandria.coari@refed.com. ReFED is a registered 501(c)(3) charity.
Check
Please make checks payable to ReFED, Inc. and mail to: 27-01 Queens Plaza N, 13th Floor, Long Island City, NY 11101
Credit Card or Paypal
Other
We also accept donations via bank wire, donor advised fund, stock, and matching gifts.
Major Gift Contributors
Ajana Foundation
Atticus Trust
Betsy & Jesse Fink
Caerus Foundation, Inc.
Fink Family Foundation
Jackie & Orion Hindawi
June & Paul Rossetti
The JPB Foundation
The Kroger Co. Zero Hunger | Zero Waste Foundation
Peter Welles
Posner Foundation of Pittsburgh
Tiller Family Foundation
other Contributors
Aditya Singh
Amanda Jones
Amy Theobald
Barbara Brabetz
Cody Hazen
Edin Golomb
Elizabeth Cheek
Elisa Massenzio
Ellen Capy
Eric B.
Frances Adams
Harry Hayman
Helen Foster
Ida Posner
Jennifer Nolley
John Heimburg
John Ryans
Julie Ungerecht
Kelly Gogerty
Loida Wexler
Marjorie Adams
Oksana Ostrovsky
Rich Guard
Sandra Boston
Sharon Tufaro
Shauna Turnbull
Sue Miller
Terry Anderson
Tony Pearson
Vivian Kasen
Anonymous (20)
The R
E

FED COVID-19 Food Waste Solutions Fund

Grants made to date:
Priority Solution Focus Areas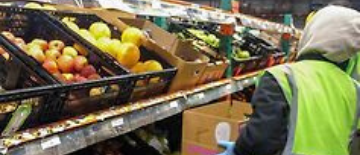 Prevention and recovery of fresh and healthy otherwise wasted food, especially at the farm level
Increase the preservation and rescue of food that would otherwise go to waste through new sales markets, donation outlets, or processing techniques.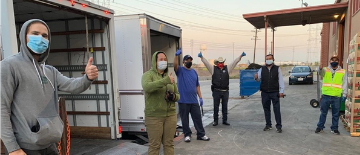 Elimination of logistical constraints along the entire food supply chain
Increase the coordination and distribution of otherwise wasted food on a more frequent basis and in ways that account for the requirements of particular food types and form factors – as well as leveraging idle, available capacity such as cold storage.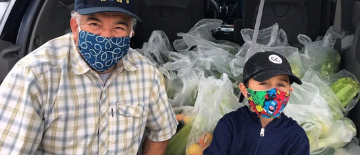 Last-mile delivery — distributing directly to end recipients, especially vulnerable populations facing food insecurity
Increase the delivery of nutritionally-rich food to individuals in a convenient and dignified way.
Eligibility Criteria
The Fund supports organizations that:
Are applying on behalf of a social enterprise, benefit corporation, for-profit company, public-private partnership, 501(c)(3) non-profit organization, or fiscally-sponsored project headquartered and operating in the U.S.
Have an annual revenue or operating budget of $500,000 or more.
Support the mission of the ReFED COVID-19 Food Waste Solutions Fund and are able to prevent and/or rescue U.S. food waste at least by 250 tons of food or 417,000 meals in the next 90 days.
Grant Application Evaluation Criteria
Focus Area: The solution aligns with at least one of the primary focus areas of the ReFED COVID-19 Food Waste Solutions Fund.
Food Waste Impact: The solution can prevent and/or reduce a significant amount of food, especially healthy and nutritious products, from being wasted in the next 90 days (and hopefully beyond to increase resiliency of the food system long-term).
Scalability: Extraordinary vision to drive reach and scale in a sustainable way.
Social Impact: The solution meets the growing and dire needs of populations most heavily impacted by COVID-19, including but not limited to certain geographic locations, the elderly, and workers in the agriculture, hospitality, and healthcare industries. way.
Team: Well-positioned with relevant experience, expertise, and partners to succeed in meeting desired outcomes during the COVID-19 crisis, with a preference for organizations that prioritize diversity, equity, and inclusion.
Timeline
Applications are reviewed on a rolling basis. If you are interested in reviewing the full set of application questions before applying click here.
Apply