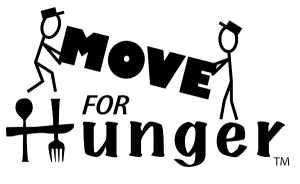 Move for Hunger
Move for Hunger is leveraging its unique and national logistics network of trucking capacity and movers to rescue and transport food to those that need it most. Over the course of the first seven weeks of the pandemic, they were able to transport 384,000 pounds of food and expect to rescue more than 570,000 pounds in the next 90 days and continue to scale thereafter.
STORIES AND PHOTOS
Move for Hunger partner Premium Q Moving & Storage has been doing their part to help fight hunger in Massachusetts during the COVID-19 pandemic. Every Monday, Premium Q volunteers to pick up donations from the Greater Boston Food Bank and deliver it to Project Soup, a food pantry which is affiliated with the Greater Somerville Homeless Coalition (GSHC).
"We have been partnering with Move for Hunger for years, but when something like this pandemic happens, we knew we had to reach out," said Victor Chaves, Sales Manager at Premium Q Moving & Storage. "With so many lives being affected it was more apparent than ever that we needed to do whatever we could as a company. These are our neighbors, the ones that made Premium Q Moving what it is, and we were looking to help anyway we could. We really pride ourselves on not only providing a service, but really helping people out. So when our guys actually get to help out with something as meaningful as this, it just makes all the hard work worth it. Especially during a time like this."
One new potential partnership with the freight industry came through Move for Hunger's latest work with Commercial Carpet Logistics (CCL), a Maryland trucking company that services the flooring industry. CCL had received an email from the Maryland Motor Truck Association about Move For Hunger, and they wanted to volunteer their trucks and drivers to support COVID-19 relief efforts. Shortly thereafter, CCL picked up more than 119,000 pounds from Kraft Heinz and delivered it to the SHARE Food Program. Although CCL isn't a traditional moving company, they have the capacity to help and a willingness to support Move for Hunger's mission. "The pickup for Kraft Foods was only about 40 minutes from our terminal, and we set it up with Share Food in Philadelphia, and it went off [perfectly]," CCL's Executive Vice President, Cassie Sealing, shared. "It was such a great experience. We want to inspire other carriers to get involved. If I can turn my efforts to giving back, I suddenly feel encouraged, I feel renewed. I needed the opportunity to give back, to help Move For Hunger, and it is inspiring to me in our own business."